UNCW Accepted as Associate Member of the USCA
May 9: UNCW Center for Sales Excellence and Customer Delight has officially been accepted as an Associate Member of the University Sales Center Alliance. The USCA is a consortium of sales centers connecting university faculty members with many different backgrounds and areas of expertise. Together, these credible and innovative educators advocate for the continuing advancement of the sales profession through teaching, research and outreach. Per USCA's website, "Members of the University Sales Center Alliance have blazed the trail in sales education, helping thousands of college students develop into highly successful sales professionals and providing the talent pool for many of the nation's most successful corporations. Our vision is to be recognized as the international leader and standard bearer for increasing the prestige and credibility of the sales profession."
Find out more about the University Sales Center Alliance here.
CSB Grad Michael Parks Wins National Award
May 7: Michael Parks, recent Cameron School of Business grad, earned fourth place at Pi Sigma Epsilon's year-long Pro-Am Sell-a-Thon® sales competition held at PSE's 62nd annual National Convention. The convention took place April 9-13, 2018 in San Diego, CA. Congratulations, Michael!
Read the press release from PSE National here. More information on the CSB chapter of PSE can be found here.
Noah Miyazaki Wins 2018 Business Plan Competition
April 19: The Twelfth Annual Business Plan Competition, open to Cameron School of Business seniors in the Entrepreneurship and Business Development concentration, was held on April 13th. Thirty-six students submitted comprehensive business plans accompanied by oral presentations for their EBD 490 (Business Development and Commercialization) course. Each year, Dr. Steve Harper, professor of EBD 490, invites four students from the class to compete.
Noah Miyazaki, Will Reagan, Albane Juarez and Kendall Clayborne (seen left) were the finalists this year, with Miyazaki being awarded the grand prize of $1,300 for his business plan detailing a new type of surgical simulator. Each of the other finalists received $1,100.
Fifteenth Annual WITX Breaks Attendance Record
April 17: On April 10, the 15th annual Wilmington Information Technology eXchange (WITX) continued its trend of growing attendance and was recorded as the largest participation to date with 565 attendees and 35 exhibitors, a mixture of student and corporate members demonstrating their technology research. New to the event this year were two major virtual reality demonstrations featuring the projects of computer science students, as well as technology entrepreneurship discussion panels lead by Sean Ahlum from tekMountain and Diane Durance from UNCW Center for Innovation and Entrepreneurship.
The event's keynote speaker was Eric Boyette, CIO for the state of North Carolina. His presentation was extremely popular, raising the need to simulcast his talk to another room in the CIS Building due to demand.
WITX continues to be known as the largest one-day gathering of IT professionals in southeast North Carolina. Conference Chair, Dr. Tom Janicki, and the rest of the WITX team thanks our sponsors for their continued support of this exciting and successful event.
Online MBA Today Ranks CSB's EMBA Program in Top 25
April 12: Online MBA Today recently published a new ranking of the Top 25 Online EMBA Programs, and CSB's Online Executive MBA made the list!
To determine this ranking, Online MBA Today compared approximately 470 online and hybrid MBA programs, evaluating them first on their executive management curriculum, and then ranking them according to the following four factors: estimated degree tuition cost; regional and business accreditation; estimated early career salary; and prestige. The data for this ranking was derived from the most recent and publicly available sources, including the National Center for Education Statistics, PayScale, US News and World Report, the Princeton Review, the Financial Times, and Quacquarelli Symonds. Data was obtained for each program, averaged, and placed on a 100-point scale to find the ranking order for the top online EMBA programs.
In the same way that the MBA is the ideal degree for business managers, the EMBA is the perfect degree for C-suite executives. "EMBA programs give students a truly unique and remarkable experience by allowing them to learn from a staff of seasoned management educators well-versed in the current innovations of business, as well as their classmates who are leaders in their own field," says Tammie Cagle, editor at Online MBA Today.
Credit: Business Insider
CSB 2018 Alumni of the Year
March 22: The 2018 Cameron School of Business Outstanding Alumni recipients Brad Heath '96 '07M, Lauren Henderson '12M and Roy Page '84 all agree that UNCW is one of the best places to return to as alumni.
CSB Marketing Department Announces New Center for Sales Excellence and Customer Delight
March 21: UNCW's Cameron School of Business is pleased to announce the official launch of the Center for Sales Excellence and Customer Delight. The center was created to develop students' ability to think and work collaboratively by teaching, coaching and encouraging students to operate with a "win-win" mentality. By offering a variety of events hosted by faculty, the business community and sales professionals, this center will offer CSB students a competitive advantage in acquiring jobs and internships.
The Center for Sales Excellence and Customer Delight aligns perfectly with the goals of the Cameron School of Business to provide myriad opportunities for students, faculty and external stakeholders in the business community, particularly the sales community.
To supplement the marketing department's concentration in professional selling, the newly created center will allow for mentoring and role-play opportunities with sales professionals and allow sales professionals the opportunity to collaborate with faculty and students to conduct industry-specific research. The center boasts a robust advisory board of sales professionals from numerous industries and local companies to guide curriculum, internships, full-time employment and other issues to foster even deeper relationships between UNCW Cameron School of Business and the business community.
UNCW's Laura Lunsford Part of Two-Year National Academy of Sciences Study on Effective STEMM Mentoring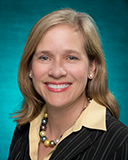 March 19: As part of a two-year National Academy of Sciences consensus study, UNCW Swain Center Director Laura Lunsford will be working alongside a "dream team" of researchers to determine and advance the application of evidence-based mentoring practices for traditionally marginalized individuals in the science, technology, engineering, mathematics and medical (STEMM) fields.
"I am honored to represent UNCW and be a member of this interdisciplinary dream team to improve mentoring practices across the country," said Lunsford. "It's exciting to work on a study that has direct application for our future workforce in STEMM."
An innovative outcome of this National Academy Consensus Study will be a web portal to provide evidence-based information for effective mentoring practices and processes that can be adapted by institutions nationwide.
More information about this study can be found via the National Academy of Sciences. Primary founders of the study include the Alfred P. Sloan Foundation, Howard Hughes Medical Institute, NAS Gulf Research Program and the Burroughs Welcome Fund.